Pumpkin and Chocolate Chip Muffins.
I'm not sure about you, but I have an over abundance of pumpkins at the moment. I already have enough pumplin soup in the freezer to last me (hubby doesn't like it) all winter, and I still have 2 more pumpkins to use up.
When I was a kid, my parents had a border stay and I remember her making these interesting and very delicious muffins with pumpkin in them. And as I was feeling really domesticated this morning (quite rare for me with morning sickness) I decided to make some for my coffee group. So I rang up Mum and got the recipe.
They are SOOOO yummy, that I decided that I wanted to share the recipe with all of you.
1 3/4 cup Flour.
1 tsp Baking soda
1/2 tsp Baking powder
1 tsp Allspice (I used mixed spice)
1 tsp garam masala
1 cup sugar
150gm butter (melted)
1 cup sliced almonds (optional)
1 cup choc chips ( I think this is OVERKILL so next time I will use only 1/2 cup)
1 cup mashed cooked pumpkin
2 eggs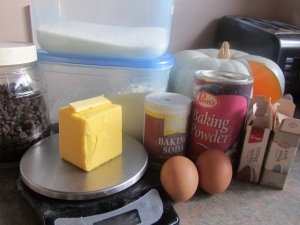 Method:
1. Get pumpkin cooking.
2. Melt butter and add eggs. Beat well.
3. put dry ingreidients in a bowl and mix together, then add to butter/egg mixture.
4. Add Pumpkin and chocolate chips. Mix well.
Bake at 180*C for 20mins.
my oven is quite hot and I use fan back so at 180*C I only cooked them for 15mins and they turned out great.
This made 12 nice sized muffins.
Brylie had to help me, as soon as she heard the egg beater, off she rushed to get a chair. "here me comes"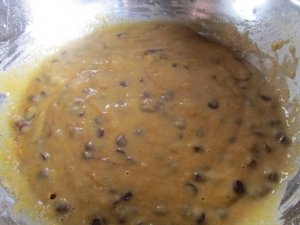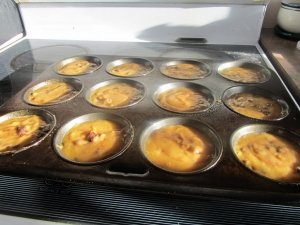 Fill them about 1 cm from the top.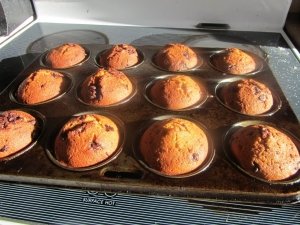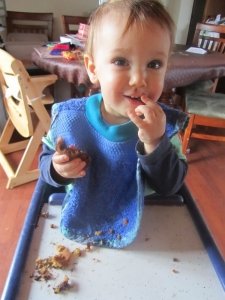 Elijah tried them out for me. yummm.
https://littlekiwis.co.nz/wp-content/uploads/2019/10/IMG_2120-255B1-255D-e1538817383892.jpg
600
800
LydiaP
https://littlekiwis.co.nz/wp-content/uploads/2019/10/littlekiwiscloset-logo-Recovered-300x197.png
LydiaP
2011-06-22 00:00:00
2019-11-13 11:01:56
Pumpkin and Chocolate Chip Muffins.